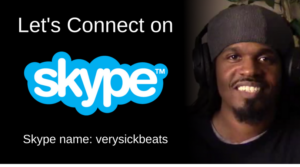 Chat with me on Skype about the following:
Music Production Tips
Motivation/Advice
Ear Training
What ever you'd like to get off your chest
NOTE- No equipment how to questions, software instruction, audio engineering, this is NOT tech support!
My Skype name is verysickbeats so let's connect. Please allow 24 hours so we can set up an appointment time that works for both of us.  This is a one time plan so if you'd like to chat more, you would have to make another purchase.  If you decide to get on a plan, feel free to click here.
Comments
comments