Let's Talk Drum Samples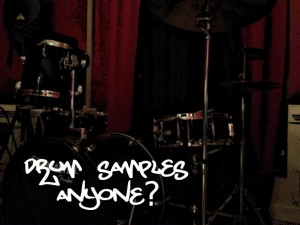 If anyone was to ask me what's the most important part of making a beat, I'd say the drum samples.  The drums is the foundation of the beat which lays the groundwork for everything else.  For this reason, great sounding drum samples are a sure way of making very sick beats.
There are many ways to find drum samples just in case you were wondering.  Personally, I prefer the old school way by sampling off vinyl.  This gives me that true dirt and grittiness which to me is the essence of hip hop.  Another way is by using plugins or audio file drum kits.  If you look to the right of this page, you can download my free drum kit with at least 20 drum samples.   Here's a video of me playing some drum samples from that kit while i was introducing this very website…
However you get your drums keep in mind that someone else may likely have access to those same drum samples.  This is the reason why I always tweak my drums no matter where I get them.  This means that I will adjust the sounds to my liking by equalization, filtering, ect.  Here's an example of how you can adjust your kick drum sample to make it hit harder.
I also took the liberty of providing  a short list of resources to roam around for free drum samples…
2. Royaltyfree
3. DaysunCivil's HipHop Drum Sounds
4. NateOg'z BoomBapperz Drum Kit
5. Soundjax
Conclusion
Think about when you hear a beat for the first time.  There may be an intro consisting of just a melody or some chords.  There could be some dialog or even sound effects.  But be honest…You are waiting for that beat to drop!! You are really listening for  the drums to come in.  Why is this?  It's because they are the driving force behind what makes your head nod.  Thanks for taking the time to read this!
Finding Drum Samples For Your Beats
Comments
comments