Top 10 Hip Hop Songs With Good Bass
Greetings to all my beat making fanatics and especially to fans of hip hop songs with good bass.  Recently, I came across an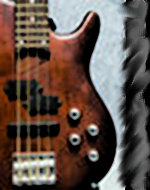 article discussing the top 10 bass lines of all time.  All of the selections were in the same genre which unsurprisingly happened to be rock n' roll.  I must admit that I was a little disappointed seeing that there could have been a much more diverse selection.  As I discussed in another post (click here), bass lines are a part of many if not all styles of music.   Personally, if I was to have an all time list, it would at least cover 3 to 4 genres.  That's just my own opinion guys so take it as is.
Anyway, I decided to do my own genre specific list.  So here is my top 10 hip hop songs with good bass.  Again, this is my own personal opinion based off songs that have influenced me in a way that others have not.  Even though I mention top 10, really these songs can be in any order.  And, I should say songs with dope bass lines but without anymore delay let's go!
10. Sugar Hill Gang "Rapper's Delight"
We can thank Bernard Edwards for this glorious bass line since he's the bass player from which the sample comes from.  If yall don't know who i'm talking about, he played for the Disco group "Chic" and the song was "Good Times".   The Sugar Hill Gang took it to another level which would also later influence many others to sample this.
9. Black Sheep "Get Wit Dis"
This joint puts me back to middle school where I remember always getting hyped when this song came on.  I have two reasons why.   First, that lovely upright bass line sample! Secondly, waiting to chant "Engine, Engine Number 9" !
8. Dr. Dre "Nuthin' but a 'G' Thang"
I wouldn't feel right if this wasn't included in my top hip hop songs with good bass.  Dr. Dre chose wisely when he decided to sample Leon Haywood's "I Want'a Do Something Freaky To You" with that infectious bass line.  Dre scored a major hit with this one!
7. Digable Planets "Rebirth of Slick(Cool Like Dat)"
One of the first songs that got me addicted to hip hop.  Butterfly from the trio produced this one by sampling and slowing down a jazz bebop song.  It's from Art Blakey's Jazz Messengers titled "Stretching" which includes Dennis Irwin's  ridiculous  bass line.
6.  Ghostface Killah "Daytona 500"
Any Wu-head will feel me on this one.  Bob James' "Nautilus" is the source of one of thee most popular hip hop samples of all-time. Gotta love how RZA flipped this sweet and simple guitar/bass combo line with other samples.
5. A Tribe Called Quest "Electric Relaxation"
How can anyone in their right mind not love this song!  This particularly dope bass line was sampled from Ronnie Foster's "Mystic Brew".
4. Gang Starr "Ex Girl To Next Girl"
Guru and Primo killed me when this came out.  "Funk it Down" is the title for the Ceasar Frazier sample. Super funky!!
3.  Nottz "How Long Will It Last"
No words other than just listen…CRAZINESS  bass work!!  Really any of his joints could be in this list!
2. Slum Village "Players"
This song was so cleverly put together.  Shout out to the great legacy and genius of Jay Dee aka Dilla.  His sub bass line in this joint is straight eargasmic.
1. Pete Rock "The PJ's"
I had to feature this number one for the simple fact that Pete Rock was the 1st producer to make me pay attention to bass lines in the first place.  The way he chopped the David Matthew's sample "Dune Part II: Sandworms" is just downright nasty among many other things!
There you have it folks.  And this is the conclusion of my top 10 list of Hip Hop Songs with Good Bass or just dope bass lines.  As always, thanks for taking the time to read this!
Hip Hop Songs with Good Bass
Comments
comments